Student Entrepreneurs – Changing the Face of Education as We Know It has been edited by Priyanshi Gathani.
---
Following the new government's formation in 2014, a plethora of campaigns and missions to help India develop have rolled out. One such mission was 'Start-Up India, Stand-Up India' that aimed to awaken the entrepreneurial spirit within us. Whether one admits it or not, entrepreneurship is essential for a nation to develop. The ideas, abilities and zeal of entrepreneurs help establish businesses, generate employment, make money, increase the wealth of the nation, bring innovation, strengthen global recognition and so on and so forth.
I was often confused by why young people in schools or colleges are not venturing into entrepreneurship. Recall or reflect upon your years of education, in school as well as college. You got up in the morning, had breakfast (if you woke up on time), attended classes, came back home, ate, rested/went for coaching classes/played/watched television/browsed the internet, had dinner and went to sleep. Most of us spent our most productive and energetic years trapped in this cycle. Be it the system's fault, or simply our habits, but the end result of this cycle is that though we are educated, we lack employable skills. We lack the ability to take risks and think creatively.
However, I recently encountered a whole new breed of students who are breaking this routine. Instead of working for other organizations, they are building their own empires. These students are taking a plunge into the deep waters of entrepreneurship and emerging with brilliant ideas which test their knowledge, creativity, and management potential. They possess the ability to work anywhere and anytime, be it from home or in a coffee shop. Their power to bring in the change that they want to see in the world, their sprouting energy, ability to think out of the box and the zeal to do the unconventional is what differentiates them from the conventional entrepreneurs.
Here are some of the creative souls who have adorned the hat of entrepreneurship: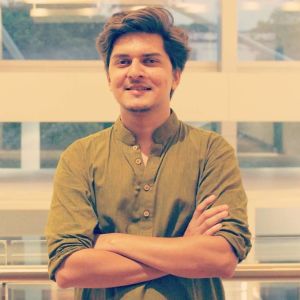 While India boasts of producing the highest number of engineers year on year, this hazel-eyed boy decided to actually put his coding skills to use rather than be another face in the crowd. Akash Kanodia was in his final year of Engineering when he started Weblight Solutions along with his friends. This IT company provides services such as Website Designing, Graphic Designing, E-Commerce Designing and Content Writing. Their biggest motivation to start Weblight was to put their coding skills to use and also earn money. All the members of the group were confident about their academics, and hence easily managed their business along with college.
Final year graduation students Arsh Limbadia and Vijay Poriya identified that brands today are trying to create a unique position and lasting impression in their target audience's mind. They used this awareness to extend their management knowledge and skills in the field of brand management and set up Mr. Creative. Today, they design logos, brand websites, create taglines and brand promises for businesses.
Their biggest motivation to take the entrepreneurial plunge was financial independence. They say, "As grown-ups, we did not like to ask our parents for money every now and then. Also, we thought that a practical exposure in the industry will help us sharpen the concepts learned in class. That is how we came up with the idea of starting Mr. Creative, thus combining our two motivations." Arsh and Vijay had to make a number of adjustments to balance their business and academics. They worked at nights, reduced sleep duration and restricted their social lives to maintain a balance. When asked if it was all worth it, they said, "Yes, it is! The satisfaction and sense of pride that we get from working are too much to be compared with sleepless nights and days sans partying."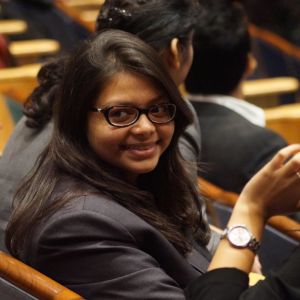 A passion for cooking and a workshop on baking are what led Mudra Agarwal to start her venture in baking. Today, through just an Instagram page and word of mouth, Mudra is baking and selling delicious cakes, cupcakes, truffle balls and cookies that would make anyone's mouth water. After attending the baking workshop, Mudra tried different recipes at home, which were appreciated by all who tried them. This inspired her to start The Bake Story and helped her put her skills to use. Not only does this businesswoman bake, but she also pursues a management course from one of Ahmedabad's premier B-schools. This makes it necessary for her to plan her week's schedule well in advance. Some years down the line, Mudra wants to start a Cafery (a café + bakery) in Ahmedabad.
Lots of luck to this amazing baker and even more wonderful entrepreneur. Check her Instagram page to see her previous orders and give this young girl a chance to serve you on your next occasion.

It was in February 2015 that Radhika Panchal, who was just in the second year of college, decided to convert her hobby of making personalized and customized handmade gifts for friends and family members into a full-fledged business. Thus began the genesis and journey of her venture, Recordo: From Moments to Memories, a provider of personalized handmade gifts. The product portfolio is diverse, ranging from small custom-made cards to huge photo collage frames, photo wreaths, personalized wall clocks, scrapbooks and many more pieces of art. Targeting the youth, Radhika leveraged the power of social media and word of mouth to build a loyal customer base.
Talking about her motivation to start a business at that young age, Radhika feels that she has always had a keen interest in taking initiatives and doing things her own way. Also, she had a desire to earn enough to suffice her needs. The support of her parents and friends encouraged her to establish her venture and continue it all these years. The journey was not a cake walk, as she had to manage her business along with her studies. With time and through experience, she learned to plan her assignments, quizzes, exams and orders. This helped her reduce the lead time from 4-5 days to 2-3 days. In the future, Radhika wishes to start a pet café cum boutique where people can bring their pets, hang out and shop.
Check out her Facebook page here and her Instagram page here.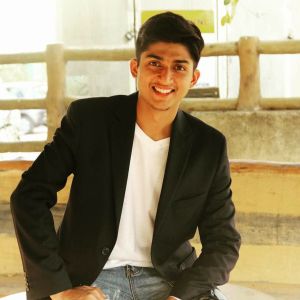 Do not mistake this smart boy with an affectionate smile for any regular student. Sahil Shah, a final year BBA student provides consultancy to High Networth Individuals (HNIs) and retail investors in the field of Cryptocurrencies. His services include educating investors about it, helping them set strategies, assisting in trade processes and providing regular news and recommendations. In addition, Sahil also helps them with taxation aspects of the same. And why do these investors trust him? It's simple – he has made money for them.
His inspiration for this venture came from the book Rich Dad, Poor Dad. The book, which talks about financial literacy and financial independence, motivated this young boy to help people become financially secure. He says, "If I can earn, anyone can, and create wealth for themselves". The exchange runs 24×7 and generally, the coordination takes place early in the morning or late at night. This enables him to manage his academics along with the consultancy services. The cherry on the cake is that this venture did not require any investment capital. So ladies and gentlemen, if you want to invest in bitcoins, you now know who to contact!
These were just some of the students who are making a mark for themselves and breaking the monotonous cycle of the education system. Send some love and motivation to them and the other budding student entrepreneurs you know!
---
To read more by the author of Student Entrepreneurs – Changing the Face of Education as We Know It, click here.