Gir Forest: The Golden Habitat of the Asiatic Lions in India has been edited by Nidhi Shah.
---
"Travel can be one of the most rewarding forms of introspection."

– Lawrence Durrell
Having completed three years in Ahmedabad, it boggled my mind that my life revolved primarily around going to college in the morning and returning to my paying guest accommodation, only to collapse on my bed and get up to repeat this cycle again. So my travelling goals went down the bus journeys in commuting to and from the college. And the honking vehicles would interrupt my introspection as I looked out of the window of that jam-packed vehicle.
All this made me want to pack my bags and head somewhere out of my monotonous routine, of the industrial city. Somewhere where I can breathe, where I have the liberty to be me. Some place, where adventure and tranquillity walk down the road hand in hand. Some place, where nature blooms in all its colours. That some place turned out to be Gir: The Golden Habitat of the Asiatic Lions in India!
Being the first trip of my life with friends, it was really difficult to contain my excitement. I spent sleepless nights imagining how it would be, what we would do. Would we get to see the famous Asiatic lions or not in our safari, and hundreds of other things. There were innumerable pictures and thoughts that had registered in my mind about how my weekend getaway would be. Or rather how Gir Forest would be. However, all my thoughts and imaginations dramatically changed when, after the crazy bus journey from Ahmedabad with my friends, I reached our destination. Gir forest was nothing like the forests that come to our mind when we think of one.
There were no lush green trees and grass and sparkling waterfalls. The forest, just like its royal inhabitants, which are the Asiatic lions, wore a blazing rust and golden gown. These golden brown Kathiawar-Gir dry deciduous forests provide the appropriate environment to the lions to camouflage from their prey. This justifies the migration of the Asiatic lions from Africa to Gir. Although known as Asiatic lions, their origin traces back to Africa, with their presence moving from east of Africa to the west and then to the north, slowly moving towards Turkey, southern Europe and northern India. Not only have the lions migrated, but a number of African tribals have also settled in Gir. They have assimilated into the culture of Gujarat along with maintaining their own identity. Many resorts around the forest organise tribal dances for the entertainment of their guests, thus providing employment opportunities to these people.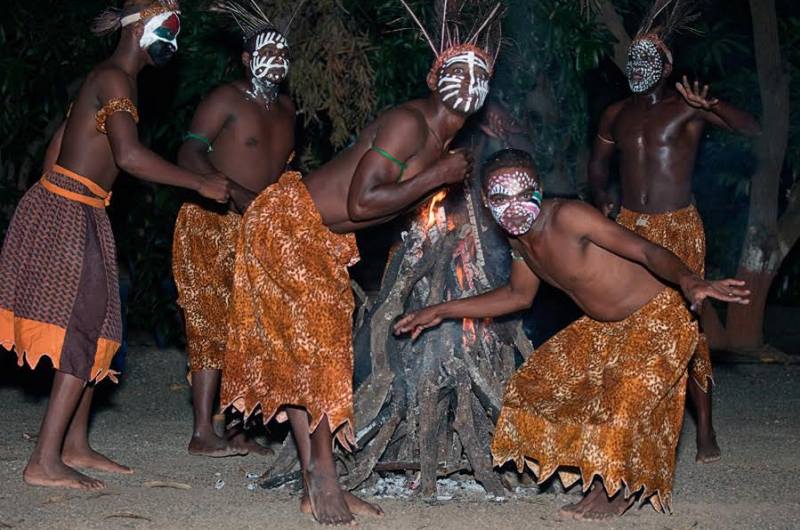 The feeling of being in the lap of mother nature easily subsided the disappointment of not being able to see a lion. How absolutely tender it was! The quietness of the jungle, that the sound of the crickets occasionally broke in the clear night sky. The remains of the night's bonfire, the clean air that can cure any lung disease, the twinkling stars and the rawness of Gir. The disappointment could in no way overcome the bliss I was getting while sitting on a swing with my friend post midnight. Where none of us uttered a word but knew exactly what was going on in each other's mind. Yes, solitude is bliss.
While I sat there swinging, with the summer breeze running through my hair, I contemplated, that maybe it was good that I did not get to see the lion. Maybe it is best if humans do not get to witness each and every aspect of nature because man is destructive. He has an evil mind that seeks to control every living organism on the planet. Be it the horses, oxen, dogs, or the lions. His greed knows no bounds. Nature, on the other hand, is simple. It is humble. Its functioning is systematic.
Disruption occurs when man interferes. If only, a man could understand the love of mother nature, the world would have been a better place today. If only, a man could strive to co-exist with the wild just like the African tribals have in Gir since hundreds of years, we would not have to go to another place to get rid of the polluted air. We would not have had to go to a zoo or a sanctuary to see wild animals. And global warming would have been out of our dictionary.
For me, Gir was not just about the jungle safari or the lions. It was an experience of a different kind of a forest that was golden brown. It was the satisfaction of getting home like food in a resort. The warmth and friendliness of its owners who treated us like their kids as well as like their friends. It was the thrill of going for a midnight walk to experience a jungle. And the adventure of a chhakda ride that can give bruises to even the strongest person.
It was the restoration of a faith that man and nature can exist together. It was like detoxifying oneself from the pollutants of everyday life. Moreover, it was losing oneself to nature to find a better and wiser version of oneself.
I do not know if Gir had 'Khushbu Gujarat Ki' as Amitabh Bachchan says, but it definitely had the fragrance of life in it.
---
To read more by the author of Gir Forest: The Golden Habitat of Asiatic Lions in India, click here.