What's wrong with Arsenal FC? has been edited by Rushi Bhimani.
---
'Oh, are you an Arsenal fan? I feel for you.'
'Why do you Arsenal fans think Lacazette is a big deal? He's no Mbappé!'
'Bro, let's talk after you win something real and not the FA Cup.'
'10-2. Multiple times. Against the same team. Your team is a joke!'
'Arsenal's worst signing? Arsene Wenger!'
'Alexis and Ozil are not staying for long at a club that's all talk and no show'
**********
Post this shambolic transfer window, someone asked me the question that I have been avoiding for a long, long time – What is wrong with Arsenal FC? A seemingly simple question I couldn't answer. It wasn't because of my loyalty to the club, but because there is so much wrong going on, that it would take a while.
Here is what I think is wrong with Arsenal Football Club:
1. Stan Kroenke and the board – During a time when clubs are going knee deep into losses and pushing for transfers, Arsenal remained profitable in this year's transfer window. The club signed Kolasinac for free and Lacazette for £52.7 Million (a club record). However, Arsenal sold Oxlade Chamberlain, Szczesny, Gabriel Paulista and Kieran Gibbs. Lucas Perez also went out on a loan. Oxlade Chamberlain was a highlight player in the wingback role throughout last season, and selling him to Liverpool was an absolute joke! The stadium is long paid for. Furthermore, tickets and merchandise sales are profitable. The board needs to be willing to spend if the club needs quality.
2. The players – The club doesn't boast of superstars as good as Messi or Ronaldo. Neither are there 'midfield maestros' like Gerrard or Iniesta. Arsenal's defence isn't rock-solid unlike that of let's say, Bayern Munich. Arsenal's is an average squad. There are only a few truly world class players in the locker room. No offence meant, but Nacho Monreal can't do what a Marcelo can. Peter Cech is great, a legend of the game. However, it is time for him. Szczesny to Juventus was a shocker. He should've gone back and played as their Number 1. He has had howlers, but he developed a great deal in his time at AS Roma, while Cech has only slowed down with age.
The whole Alexis Sanchez drama did not do any favours to either him or the team. In hindsight, Arsenal should've let him go. One player isn't bigger than an entire team. Mesut Ozil looks lacklustre, to say the least. Players aren't really getting along. Every time they step out, they look like eleven players and not one team.
3. Arsene Wenger – This by far, is the most difficult part for me to write. I have played football since I was 6 and I've watched Arsenal play since I was 10. Arsene Wenger and his approach towards football fascinated me. He knew how to get superstars like Henry, Bergkamp, Vierra and Pires playing together for Arsenal and not just for moments of individual brilliance.
Wenger was a thorough professional. His approach brought about a revolution in the English game. It was Wenger that got the players playing for a club and its fans. It was Wenger that got the team to be what is now called 'The Invincibles'. Speed, accurate passing and quality finishing – these were the attributes of an Arsenal team. Until Wenger started getting it wrong. Repeatedly. As for Wenger, he is not bigger than Arsenal. However, Arsenal is bigger because of him and every fan respects him for that.
I think it began at Manchester United on August 28th, 2011 (or as people world over now know it: 8-2). Arsenal has been on a downward spiral ever since. Wenger brought the 4-4-2 to England. However, he didn't realize that soon enough, managers like Sir Alex Ferguson and Jose Mourinho will develop their own ways of dealing with it. Over time, Arsenal has become too comfortable under Wenger. The players almost know that they'll get average game time, European competition and that Community Shield or FA Cup. The bar has to be raised if Arsenal is to return to their glory. And in my opinion, it can't be done with Arsene Wenger as the manager of Arsenal FC anymore.
What next for Arsenal?
If Arsene Wenger can miraculously win the Europa League this season (wouldn't put my money on it), a domestic trophy and finish in the top 5, I think he should call it a day. In my opinion, Diego Simeone would be a great replacement. Obviously, it will be difficult to get him, but the club must try. Arsenal desperately needs that change in their approach towards games. A great football club with such passionate fans and rich history does not deserve 10-2's and 8-2's. The board needs to realise that their squad depth is laughable. They need to go out and acquire the necessary talent. While 'smart buys' like Xhaka are decent, Arsenal needs quality players like Toni Kroos or Firminho. Only then can the club compete in Europe and not get knocked out in the round of 16 (for four continuous seasons).
Yes, Arsenal is struggling, but what club doesn't? Even the likes of Real Madrid, Barcelona and Manchester United have struggled for multiple seasons. United was mocked for going down to the Europa League and look what they did. They fought for it, won it, got the likes of Lukaku and are now looking like the formidable force they were under Sir Alex. That's what Arsenal need to do. They need to dig deep. They need to rethink their approach towards season-influencing games and stop bottling in the 82nd minute.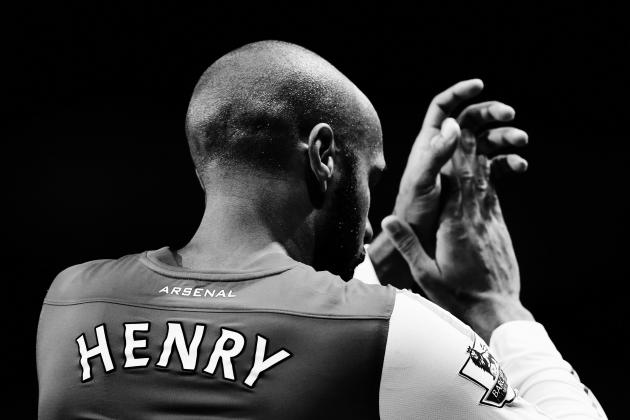 "I'm obsessed with the idea of making my mark on history. And Arsenal is my paradise." – Thierry Henry
As for me, I will support Arsenal Football Club till the end of time. It's a club I've grown up watching and it feels like 'my club'. As Jose Mourinho once famously said:
"Arsenal have won that advantage, nobody gave it to them. By playing fantastic football and by winning matches and by winning trophies, they won that respect that the opponent has for them."
I believe that this too, shall pass.
Stay loyal forever,
Come On You Gunners!
---
To read more by the author 0f What's Wrong with Arsenal FC?, click here.