Mid-Week M.E.L.A: New Delhi Times (1986) has been edited by Nidhi Shah.
---
Director: Ramesh Sharma
Writer: Gulzar
Actors: Shashi Kapoor, Sharmila Tagore, Om Puri, Kulbhushan Kharbanda
Plot: Journalist Vikas Pandey (Shashi Kapoor) discovers a political assassination while reporting an illegal hooch scandal. Trouble brews as he tries to uncover the conspiracy.
I remember Shashi Kapoor for one of his dialogues in Kabhie Kabhie. In that film, Shashi Kapoor and Amitabh Bachchan's characters find out about their wives' romantic past. Strikingly, both characters process this information very differently. While Bachchan has a fit of rage, Kapoor responds with grace and love. He says,
When a woman bears your children and spends twenty years with you like water flows through the barren ground, what right do we have to question our partner's past.
Forty years after the film's release, these words represent love to me even today. It may seem strange that an actor of that era would appeal to a 21-year-old, but it is this defining grace that sets him apart from the rest and makes him truly memorable. His regality was not just limited to his films. At times when I struggle with issues of self-importance, the confidence with which he played the role of a supporting actor to Bachchan inspires me. Such self-assurance can only stem from real comfort in one's identity.
And thus, as he passed away recently, I decided to watch New Delhi Times in his honour. The film is a political thriller written by Gulzar. Despite it meeting several legal problems and not making much money, it went on to win three National awards. Shashi Kapoor won Best Actor, and the film won for Best Cinematography and Best First Film by a Director. This goes on to show Kapoor's eye for talent and courage to take risks, because he signed on a director fresh out of college for merely One Lakh rupees.
The film begins with a murder on a rainy night in Ghazipur. A trippy opening sequence, that has graphics of words typed into a computer, follows it. Within a few minutes, we can ascertain that this is not your average 80's film. It isn't even your regular Kapoor film where we see the smiling man romance heroines amidst hills. We find him pot-bellied, with greying hair, and a moustache, following a monologue by him that lends a voice to the history of Delhi.
We see these elements—quirky shots and monologues—repeated to the desired effect. They show scenes of the newspaper making process and monologues of Kapoor's thoughts. They are at times craftily placed as Kapoor recording his thoughts for a story. However, the scene that will stick with you even after the movie ends is the one where we see two policemen sit and watch over the ruins that the town is in after the riots.
Just as in real life, Kapoor isn't afraid to show vulnerability in the film as he wakes up after a frightening dream fearing for his wife's safety and clutches her urgently. In two other scenes, he burns himself with a matchstick that he was using to light his pipe. This reflects his own predicament as he tries to catch the culprit but hurts himself in the process.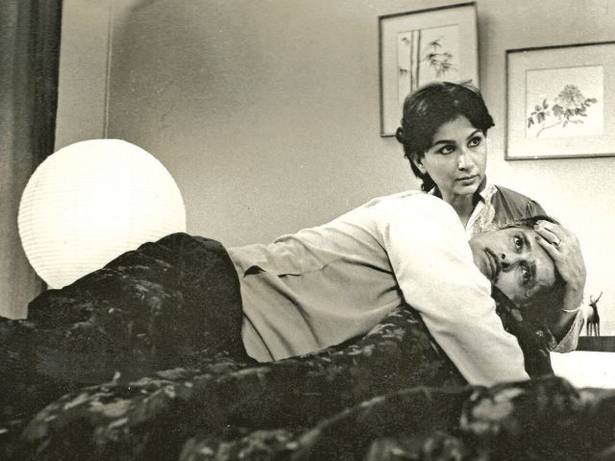 The film proves to be a slick thriller that is worth watching even today. The writers have peppered it with thought-provoking conversations and wry humour. The characters lament how things hadn't really changed since colonial times and long for the idealism of the pre-independence era. These state of affairs dishearten them as the perpetrators weren't outsiders but their own people.
They also converse about how, as journalists, they are desensitised towards tragedy and the purpose of being one. The character of Kapoor's friend, a photographer, serves well by creating opportunities for these conversations. In one scene, he stops Kapoor from delving too deep into the conspiracy by claiming that it didn't make much of a difference anyway. He memorably says,
You (journalists) sneeze and hope that the government gets a cold. The job of a striptease performer is to entertain everyone by undressing herself and we merely entertain everyone by undressing others.
The film is realistic yet not gruesome. Kapoor's idealistic character even if defeated leaves you with hope for the future just by virtue of his virtues. New Delhi Times is as relevant today as it was then. If you're looking for a dull sense of hope in today's world do give it a watch.
---
To read more from Mid-Week M.E.L.A., click here.